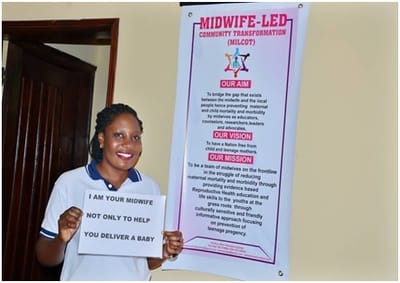 Who We Are
Midwife-led Community Transformation (MILCOT) is a charity organization registered by Uganda Registration Service Bureau in August, 2018 as company limited by guarantee to carry out its charitable activities in all parts of the Country. MILCOT's major aim is to bridge the gap that exists between the midwife and adolescents, youths and the local people, hence contributing to prevention of maternal and child mortality and morbidity where by midwives act as educators, counselors, researchers, leaders and advocates.
Mission:
To be a team of midwives on the front line in the struggle of reducing maternal mortality and morbidity, through providing Evidence Based Sexual Reproductive Health Education and Life Skills to adolescents and youths at the grassroots through a culturally sensitive and friendly informative approach focusing on prevention of teenage pregnancy.
Vision
Communities free from teenage pregnancy and its effects.
Values:
Friendly Care, Love, Integrity, Passion and Excellence.
​​​​
Our Story
MILCOT had a humble charitable beginning in 2017 and was born of Nayiga Harriet's vision after encountering with a number of young mothers during her midwifery practice both in clinical environment and community, experiencing effects of teenage pregnancy including, maternal mortality and morbidity. Harriet realized that the role of midwives is missing at the grassroots level to help and inform the community about the complications resulting from teenage pregnancy yet they can be prevented.
Since a Midwife is known to be the back born of health care, and strategically positioned, Harriet got concerned to play a role in improving primary health care by reaching vulnerable households and families, adolescents and youth groups, community and religious leaders, elders and Village Health teams. MILCOT is currently operating in the local communities of Nansana Municipality, but the future plan is to extend to other parts of the country to address the high numbers of teenage pregnancies, maternal mortality and morbidity by midwives on the frontline.